Deodorize your sports & gym equipment without irritating chemicals
✔ Non-irritating and non-toxic
✔ Won't ruin your sports & gym equipment
✔ Backed by our 100% happiness gaurantee
Regular price
Sale price
$9.99
Unit price
per
Sale
Sold out
Auto-renews, skip or cancel anytime.
Auto-renews, skip or cancel anytime.
View full details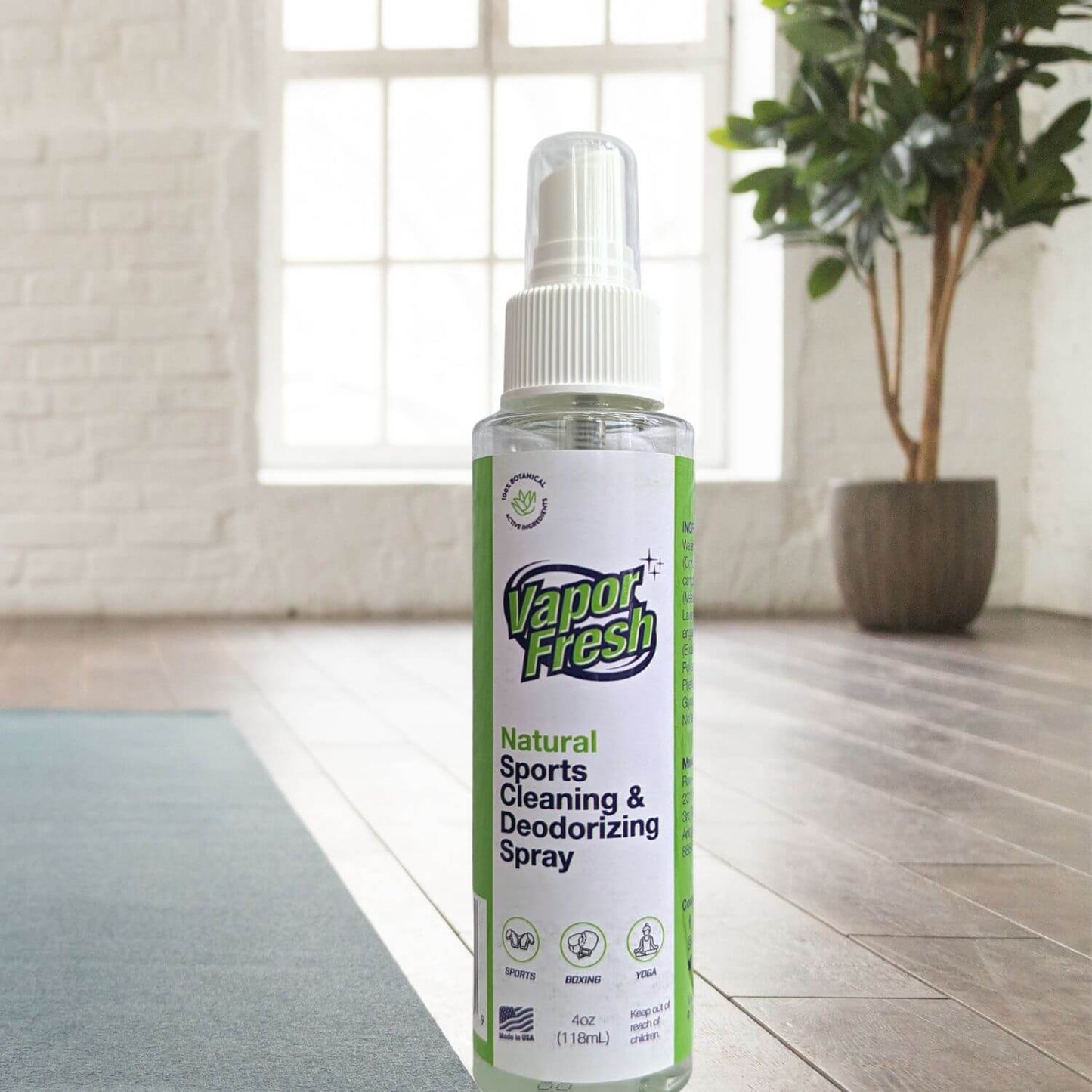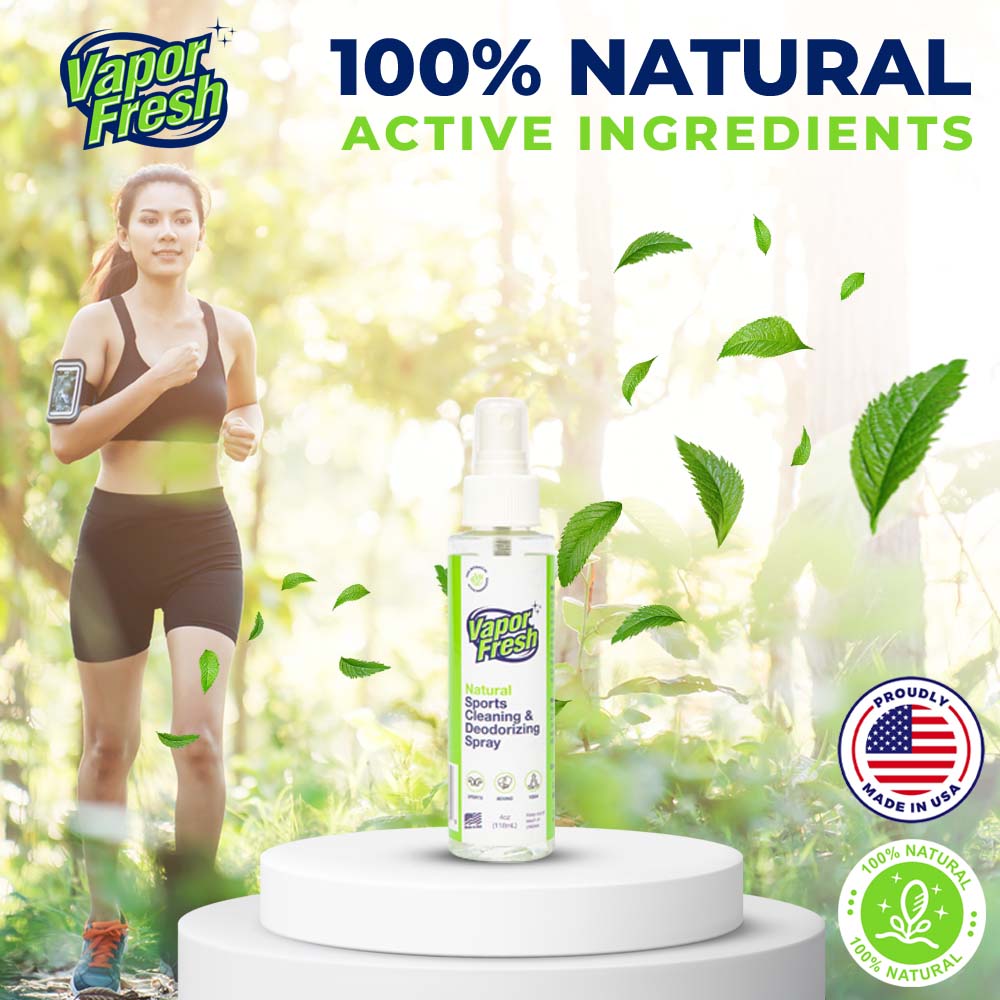 Our expertly crafted blend of essential oils eliminates odors and leaves behind a refreshing scent
Effortlessly deodorize footwear, yoga mats, sports gear, boxing gloves, gym equipment & more
A proprietary blend of four essential oils that destroys odors without any harsh chemicals
Eliminate sweaty odors, everywhere.
Yoga mats, boxing gloves & all other sports equipment
Eliminate all that sweat and odor from tough workouts, games, yoga classes and sparring sessions.
Shoes, cleats, sandals, boots, skates & more
Stinky feet no more. If you wear it on your feet, Vapor Fresh can keep it fresh and odor-free.
Treadmills, spin bikes, weights, benches & more
We workout to stay healthy. Don't clean your gym equipment with toxic chemicals found in other brands.
Water, Polysorbate-20, Ho Wood Oil (Cinnamomum camphora), Tea Tree Oil (Melaleuca alternifolia), Lavender Oil (Lavendula angustifolia), Eucalyptus Oil (Eucalyptus globulus), Phenoxyethanol, Caprylyl Glycol, Mixed Tocopherols
To deodorize sports equipment: Spray liberally on all sides of equipment and allow them to fully air dry prior to putting away.
To clean gym equipment: Spray on surface and wipe dry with a paper towel or microfiber towel. On cardio equipment electronics, spray towel until damp and use towel to wipe clean.
☑ Will Vapor Fresh irritate my skin?
Vapor Fresh will not irritate your skin. Our spray is non-irritating, non-toxic and free from all the typical cuprits of skin irritation like artificial fragrances, quats, alcohol and more.
☑ How does Vapor Fresh eliminate odors so well?
Vapor Fresh utilizes a proprietary blend of four essential oils to simultaneously eliminate the root cause of the odors and replace them with an amazingly refreshing scent. It also contains a gentle surfactant to lift away oils and debris from surfaces, leaving your items fresh and clean.
☑ How do I use Vapor Fresh to deodorize my footwear?
Eliminating odors from your shoes with Vapor Fresh is simple! All you have to do is spray the inside of each shoe with a few sprays of Vapor Fresh and allow them to air dry. For deeper cleans, you can remove the insole of each shoe and spray those down separately as well.
☑ How do I use Vapor Fresh to deodorize my boxing gloves?
Vapor Fresh is amazing at deodorizing boxing gloves because it will eliminate the odors without irritating your skin. Simply spray the insides of each glove until damp and allow the gloves to air dry completely before next use!
☑ How do I use Vapor Fresh to deodorize my yoga mat?
eodorizing your yoga mat with Vapor Fresh is as easy as 1-2-3! After your yoga practice, simply spray the entire top of your yoga mat with Vapor Fresh. It's optional to wipe the mat dry prior to rolling it up. We suggest if you did hot yoga and dripped a lot of sweat on your mat, it's advisable to wipe the mat down after spraying it to remove the sweat and oils. If there's not much sweat and debris on the mat after your yoga session, simply spraying it and rolling it up is perfectly fine! Vapor Fresh will not leave any sticky or slippery residue on your mat, so you're good either way.
☑ Does Vapor Fresh kill germs?
Vapor Fresh is not a registered disinfectant, so we cannot make any claims to killing germs. However, you do not need to kill germs in most scenarios. Simply wiping away sweat, dirt and debris as well as deodorizing items is sufficient for most scenarios to have hygenic sports & fitness equipment.
☑ Can I leave this bottle in my gym bag?
Yes! This travel sized bottle of Vapor Fresh is perfect to bring on the go, whether you want to keep it in your gym bag, boxing bag, car or purse.