Innovative plant based disinfecting gym wipe that kills 99.9% of germs without the use of harsh quaternary ammonium compounds (quats) found in other brands. Safe on all gym equipment.
✔ Kills 99.9% of viruses, bacteria and fungi
✔ Won't deteriorate equipment like other wipes
✔ Backed by our 100% happiness gaurantee
Regular price
$139.95
Sale price
$134.96
Unit price
per
Sale
Sold out
Auto-renews, skip or cancel anytime.
View full details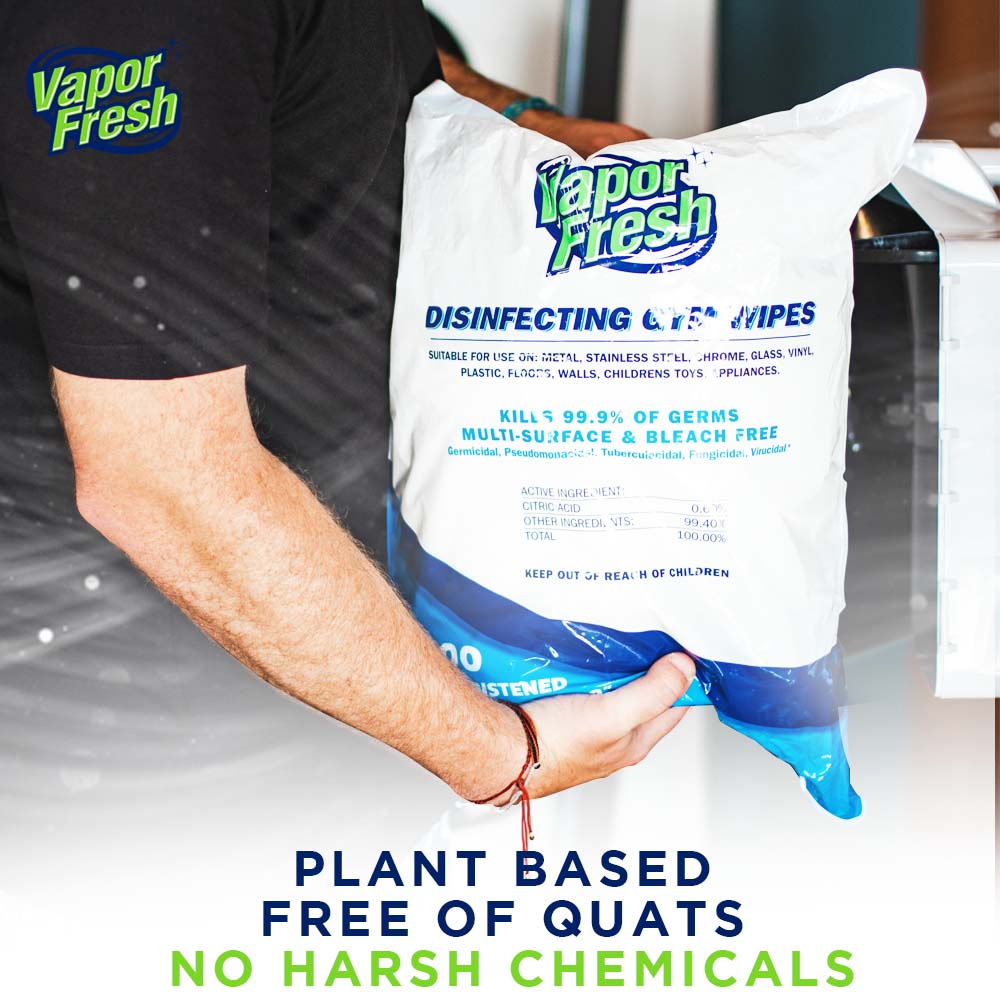 Free of quats and phenols which can cause lung, skin & reproductive issues.
EPA registered disinfectant that kills 99.9% of bacteria, viruses and fungi.
Kills germs using the same citric acid found in fruits, instead of harsh quats.
Clean your gym equipment, safely.
Treadmills, spin bikes, weights, benches & more
Kill germs and eliminate sweat and odor from your gym equipment. Safe on all surfaces.
Yoga mats, blocks and other accessories
Keep your yoga mat hygenic and clean without making it slippery or sticky like other wipes.
Boxing gloves, heavy bags and other accessories
Perfect for cleaning the outside of boxing gloves, heavy bags, training accessories and more.
EPA Registration Number: #34810-36-90011
Wipes Per Roll: 1,200
Wipe Dimensions: 6" x 8"
Roll Dimensions: 8.5" x 8.5" x 8"
Roll Weight: 10.5 lbs
UPC: 862344000135
Safety Data Sheet (SDS): PDF
Water, Sodium Octyl Sulfate, Lactic Acid, Malic Acid, Acetic Acid, Pelargonic Acid, Citric Acid, Sodium C14-16 Olefin Sulfonate, Ammonium C6-10-alkyl Polyoxyethylene Sulfate, C12-15 Alcohols Ethoxylated
Cut the top of the bag open but leave the roll inside. Place the bag into your wipe dispenser. Pull a wipe from the center of the roll and feed it through the mouth of your dispenser. Close the dispenser. Prepare to have the freshest gym ever.
☑ How does Vapor Fresh kill germs without quats?
Vapor Fresh Gym Wipes use the same citric acid found in plants and fruits to lower the pH of a surface just enough to kill harmful microbes.
☑ Why is Vapor Fresh better for my gym equipment than other brands?
The citric acid in Vapor Fresh Gym Wipes allows you to kill 99.9% of bacteria, viruses and fungi without wearing down your equipment and causing discoloration and cracking like other quat-based wipes do. This means your gym equipment will look newer and last longer.
☑ Will Vapor Fresh Gym Wipe Refill Rolls fit in all dispensers?
Yes! Most dispensers can fit refill rolls up to 9 or 10" in diameter. Vapor Fresh Disinfecting Gym Wipe Refill Rolls will certainly fit in all standard dispensers.
☑ How do I use Vapor Fresh Gym Wipes to disinfect a yoga mat?
Disinfecting a yoga mat with Vapor Fresh Gym Wipes is very easy. Simply take a wipe and wipe down the entire surface of your yoga mat after use. Allowing to air dry is not required. You can immediately roll up your mat and it will be ready for your next session!
☑ How do I use Vapor Fresh Gym Wipes to disinfect a Peloton?
People love disinfecting their Peloton with Vapor Fresh Gym wipes because they are convenient, safer and easy than other wipes. Simply take a wipe and wipe down the handlebars, seat, peddles and the floor mat to remove sweat and grime. You can wipe the screen of your Peloton but be mindful of the seams and wipe away any excess moisture on the screen to protect the electronics.
☑ How do I use Vapor Fresh Gym Wipes to disinfect boxing equipment?
Vapor Fresh Gym Wipes are perfect for disinfecting boxing gear, particularly the outsides of boxing gloves, heavy bags, sparring accessories and more. They provide the perfect combination of killing germs, wiping away sweat and grime, and safely eliminating blood.